Chiropractic Pregnancy Care in Stevens Point
Promoting Education, Empowerment and Wellness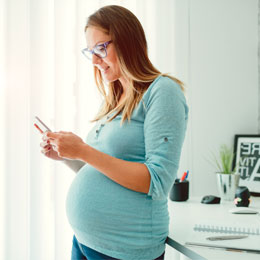 Pregnancy: it's a time of magical changes, as well as added stress. Your body is constantly adapting to accommodate your little one, and it's more important than ever to keep your health at the highest levels.
At Embracing Life Chiropractic, we provide pregnancy (prenatal) chiropractic care so that moms in our community can benefit from our natural solutions. As a mom herself, Dr. Nicole is passionate about empowering moms-to-be with the tools and education they need to have the healthiest pregnancies and births possible.
Health For Mom and Baby
With chiropractic care, your body can heal and adapt thanks to a nervous system free from interference. Dr. Nicole is certified in the Webster Technique, which analyzes your pelvis, sacrum and ligaments to ensure that they're balanced. Your uterus can then have space for the baby's optimal growth. The chance of intrauterine constraint is also reduced with chiropractic care, and it's been shown to decrease discomfort and labor times.
Safe, Individualized Care
Your care at Embracing Life Chiropractic is completely tailored to what we find you need through a comprehensive examination process. It's completely noninvasive and shows us how best to help you. We recommend that you continue care throughout your entire pregnancy and afterward.
There are even benefits during the "fourth trimester" of pregnancy, postpartum. It'll help your body recover and function well for your newest family member. There is still laxity present in your body from hormones, and chiropractic care can keep your pelvis balanced, nervous system free of stress and reduce any aches and pains.
We look forward to helping you have the healthiest pregnancy possible. Contact us to start your pregnancy care!
---
Pregnancy Chiropractor Stevens Point | (715) 997-9330